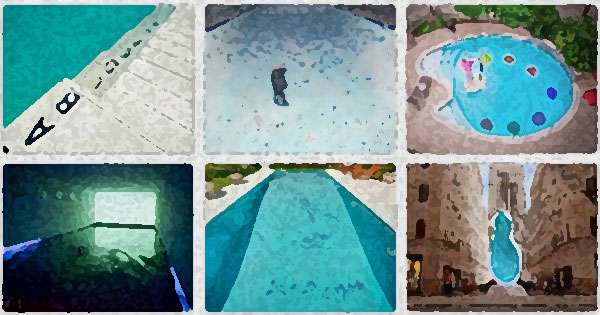 Water has inspired artists since the beginning of art, and in the latter half of the 20th century, the swimming pool lifestyle has soaked into popular culture.
Today's pictorial is about swimming pools that have inspired art, or maybe the other way around? Either way, here's a look at the intersection where art and pools and popular culture – collide.
---
Sonoma, California; all the way back in 1948, we have what was then a very modern pool design with sweeping curves, designed by Thomas Church. Pool owner Dewey Donnell added the freeform sculpture by artist Adaline Kent.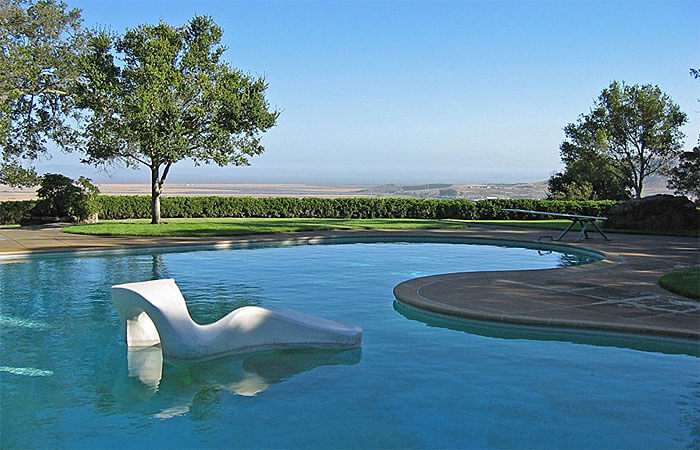 In 1961, Pablo Picasso was visiting the home of his friend Antonio Soler, at Villa El Martinete, in Marbella, Spain. With the pool empty for cleaning, Pablo found some paint and a brush and left this priceless doodle on the pool floor.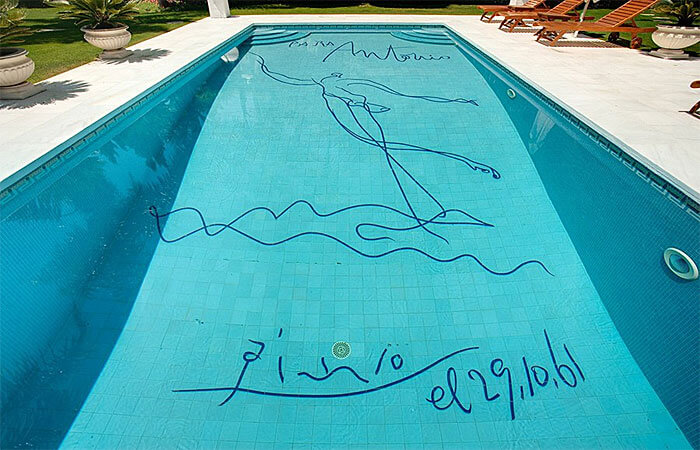 In 1987, artist David Hockney donated a morning of his time painting squiggly marks on the pool at the Roosevelt Hotel in Los Angeles, as part of a downtown renovation effort. L.A. city officials closed the pool for a few days because it didn't conform to safety regulations for public pools, but soon after relented, when they learned of its value.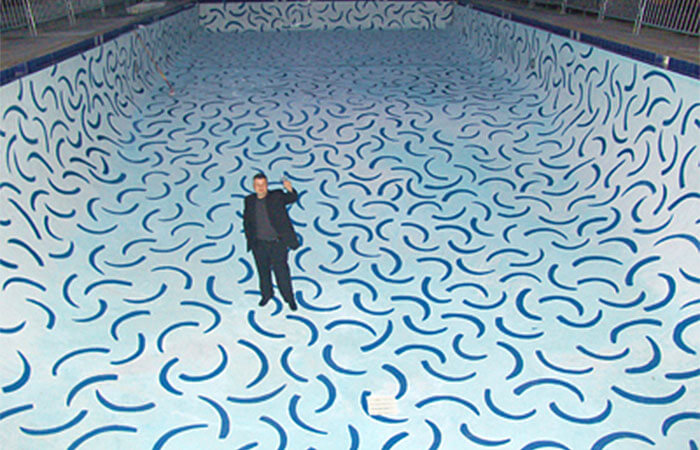 In the early 90's, Argentine artist Jorge Macchi was painting abstract watercolors. In one set, an address book (or little black book) had morphed into a bench for a seated man. Two years later he used the design again on this installation, aptly named piscina.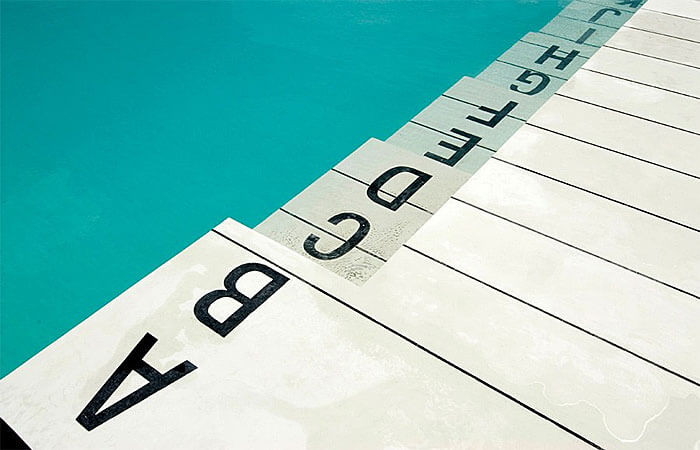 In 2000, Houston, Texas artist and painter Allan Rodewold installed this pool at his studio in the hip Ward 1 district, complete with tiled paint splotches, thumb hole pedestal and oversized paint brush!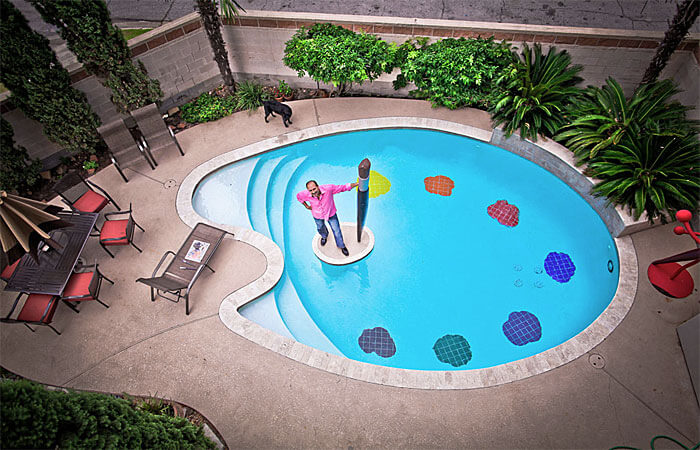 Artist James Turrell, best known for his works with light and space, unveiled the Baker Pool, in 2008. Built in the basement of a Connecticut estate barn, the large window and LED perimeter lighting gives this pool – effect.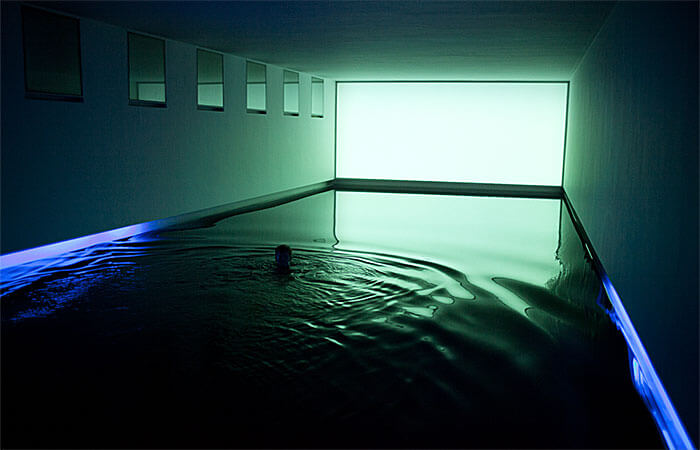 In 2009, At Villa Emslieb, gallery owner Thaddaeus Ropac's estate near Salzburg, Austria, Swiss conceptual artist Sylvie Fleury adorned the bottom and edges of a granite pool with inspiring phrases. In the yard is a whimsical bunny fountain by American sculptor Tom Sachs.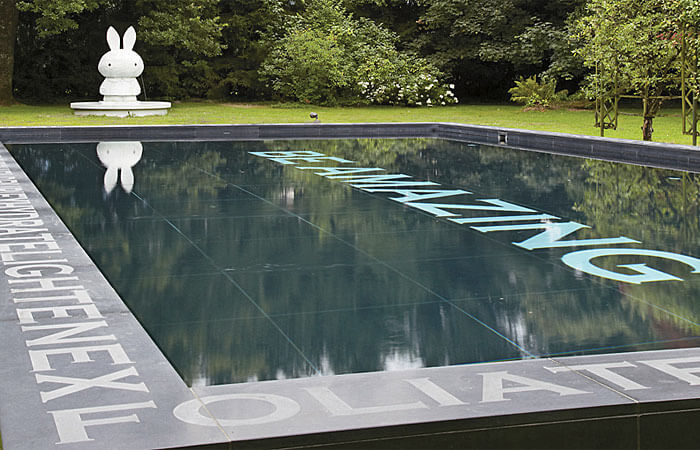 New Jersey pool builder Cipriano Landscape Design pulled out all the stops in 2013 to create a 1700's era Stradivarius Violin Pool, the only one of it's kind. Half a million glass tiles line the interior of the 90′ long pool, luminous with LED and fiber optic lighting.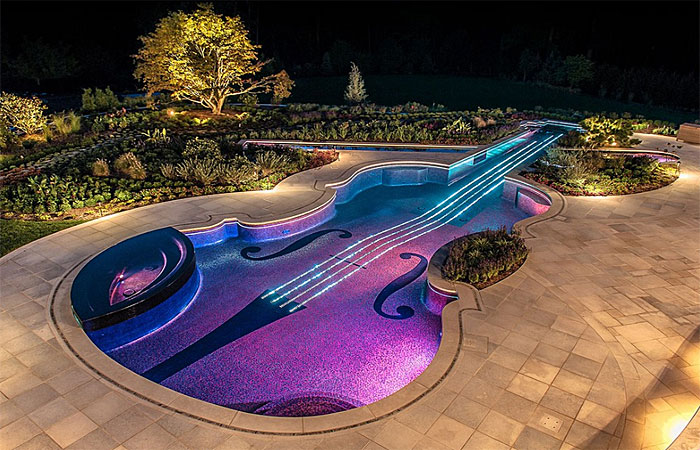 In 2014, artist Alfredo Barsuglia created a secret pool, in the middle of the Mojave desert. Part art project and part social project, the GPS coordinates for the pool, and the location of the key to open the rolling pool cover were a guarded, but obtainable secret. Social-Pool is now closed, but may be opening again soon!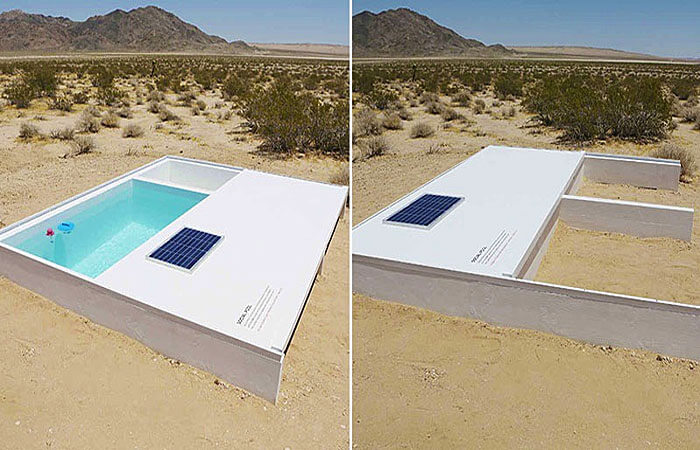 And in 2016, the New York City Commission for the Arts commissioned this sculpture in Rockefeller center, named "Van Gogh's Ear", by the Danish artist duo Elmgreen & Dragset. Reminiscent of Marcel Duchamp's readymades, which featured cultural objects elevated to the level of high art.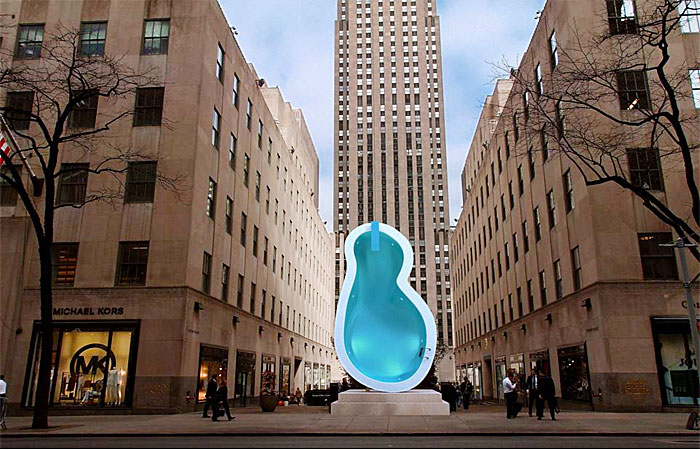 ---
10 swimming pools inspired by art, or is it art inspired by swimming pools? A little of both, perhaps.
This article was originally written by Davy Merino and appeared here.